The Blue Handcart Natural Slate Stone Rocks are a fantastic addition to aquariums and terrariums for aquascaping. Made of 100% real natural slate stone, these rocks add beauty and realism to any aquatic or reptile habitat. With a mix of stones ranging from 2 to 3 inches and a larger piece measuring about 8 inches, you have the flexibility to create caves, cliffs, and mountain ranges for your fish and plants. These PH neutral stones are safe for your pets and will not affect the water quality. Additionally, they naturally hold heat, making them perfect for heat-loving pets like amphibians and reptiles.
Read More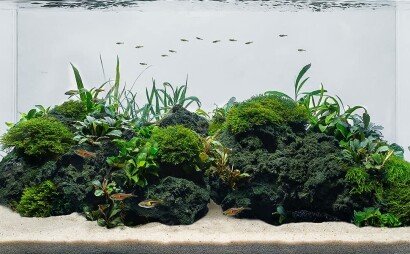 The LANDEN Black Lava Stones are a must-have for aquascaping, terrariums, paludariums, vivariums, and reptile and amphibian enclosures. Made from volcanic black lava, these stones offer a natural and dark color that adds a striking and captivating element to any setup. With their rough surface, porous texture, and lightweight nature, they are perfect for creating large structures and diverse landscape elements like caves, cliffs, and mountains. These stones can also be crushed and used as a substrate, promoting healthy plant growth. In this in-depth review, we will explore the various features and benefits of the LANDEN Black Lava Stones, helping you make an informed purchase decision.
Read More
It's time to dive beneath the surface and explore "The Best Rocks for Cichlid Tanks: Enhancing the Natural Habitat for Your Colorful Beauties"! This article is your definitive guide to select the rocks that sing in harmony with your cichlids' needs. After all, every splash of color in your tank deserves a stage worthy of their spectacle, don't you agree? Let's rock and roll, dear aquarists!
Oh, the marvelous world of cichlid tanks! It's a thriving underwater universe of flashy fins, bold behaviors, and vibrant hues, where every aquarist becomes an architect of aqua-life. And guess what? The brilliant charm of your cichlid empire relies not just on those colorful swimmers but significantly on the choice of rocks you bedeck their habitat with. That's right, rocks! Those humble, oft-overlooked elements that can dramatically redefine the naturalistic feel of your underwater Eden.
Read More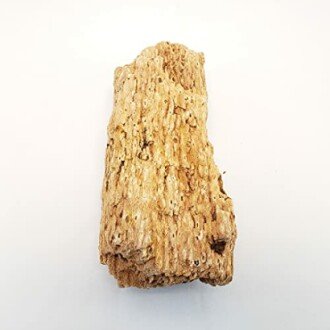 The Lifegard Aquatics Aquascaping Burma Petrified Stone Kit is a must-have for any fish tank or aquarium enthusiast. This decorative rock kit is designed to enhance the visual appeal of your aquatic environment, creating a stunning underwater landscape. The kit includes high-quality rocks that resemble miniature rock formations, perfect for creating reef structures. With various sizes available, you can easily customize your aquascaping needs. Whether you have a 10 or 25-gallon aquarium, this lightweight and visually appealing rock kit is sure to impress. Let's dive deeper into the features and benefits of the Lifegard Aquatics Aquascaping Burma Petrified Stone Kit!
Read More
# Introduction Welcome to our in-depth review of the River Rocks Stones Natural Decorative Mixed Color Pebbles! If you're a fish or aquarium enthusiast, you'll love this product. These natural pebbles are not only decorative but also provide a comfortable and healthy environment for your aquatic pets. Made from 100% raw materials and high-temperature fired, these rocks are durable and won't fade over time. Whether you're looking to create a beautiful aquarium scape or enhance your garden, these pebbles are versatile and add a touch of color and elegance to any setting. Let's dive in and explore the features and benefits of these river rocks in more detail!
Read More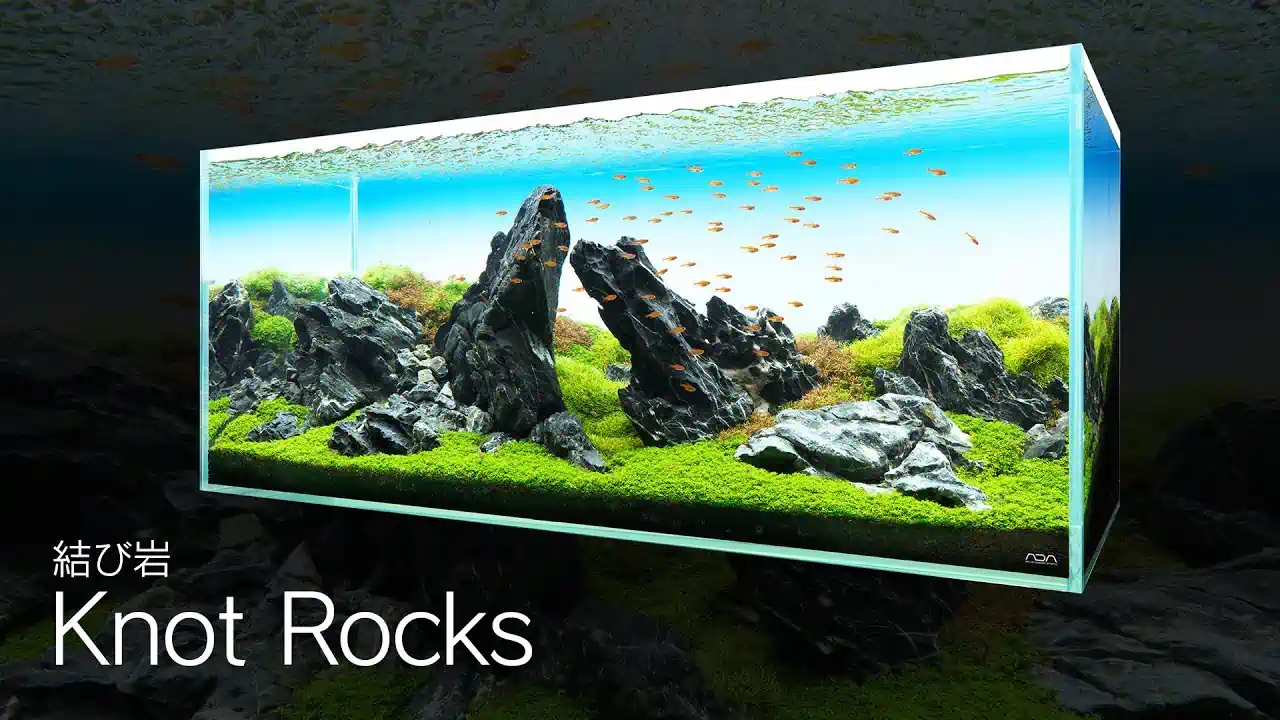 Are you wondering, "Can you put any rocks in a fish tank?" When it comes to creating a healthy and thriving aquatic environment, the type of rocks you choose for your aquarium plays a crucial role. In this article, we will explore the significance of selecting the right rocks for your fish tank and how it impacts the well-being of your aquatic pets. From understanding the potential risks associated with unsuitable rocks to discovering the functional benefits of aquarium-safe rocks, we'll provide you with valuable insights to help you make informed decisions. Join us on this journey as we delve into the world of aquarium rocks and unlock the secrets to transforming your fish tank into a captivating underwater oasis.
Read More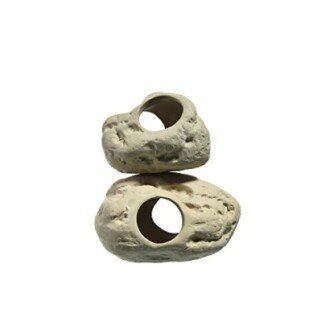 The ALEGI Aquarium Decoration Rock Caves are a must-have accessory for any fish tank enthusiast. Made of ceramic, these rock caves provide a safe and natural hiding spot for your fish. With their flat edges and natural stone texture, they create a visually appealing and realistic underwater environment. Not only are they easy to clean, but they are also suitable for both freshwater and saltwater aquariums. Whether you have crayfish, shrimps, bettas, cichlids, or hermit crabs, these rock caves will help reduce stress and aggression among your fish.
Read More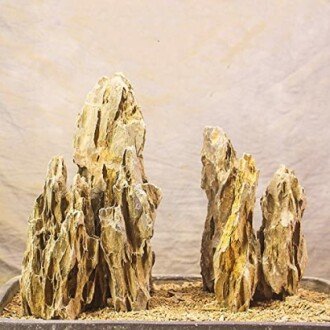 The AWXZOM 4.4lb+ Natural Dragon Rock is a carefully selected set of decorative aquarium rocks designed to enhance the beauty of your fish tank. This set includes 5+ pieces of natural dragon stone, with various sizes ranging from 2+ inches to 6+ inches. The rocks are perfect for 2 to 10 gallon aquariums and can be used to create a natural and visually appealing aquascape. These rocks not only provide a safe and beautiful environment for your fish but also serve as hiding places for shrimp and small fish. Let's dive into the details of this stunning aquarium rock set.
Read More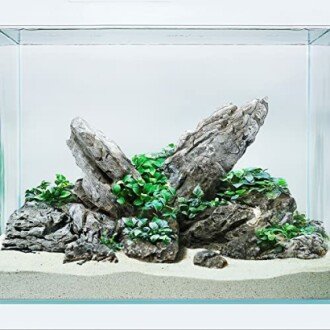 If you're looking to enhance the look of your aquarium, then you'll want to consider the LANDEN Seiryu Stones Natural Rocks. These rocks are a natural and stunning addition to any aquarium, paludarium, or terrarium. The gray-toned stones are hand-selected from nature, so each piece is unique and adds character to your underwater landscape. Not only are they aesthetically pleasing, but the heavy mass of the stones also provides stability, ensuring that your aquascape remains intact. In this article, we'll take a closer look at the LANDEN Seiryu Stones Natural Rocks and explore why they are a great addition to any aquatic environment.
Read More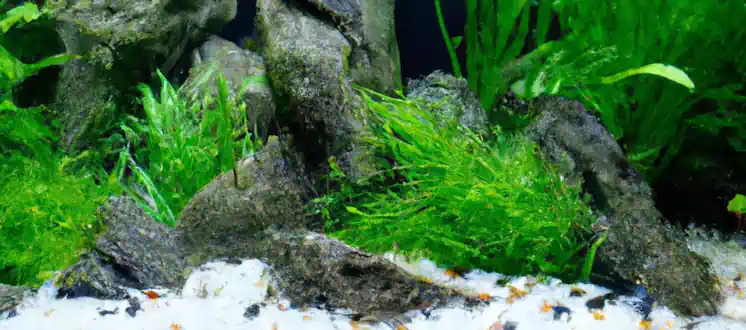 Creating a captivating underwater world goes beyond just fish; it involves carefully selected and arranged aquarium rocks that create an aquascape mimicking natural habitats. This aspect of aquarium hobbying isn't merely aesthetic; the rocks you choose play significant roles in altering water chemistry and providing refuge for your fish.
If you're a newcomer to the hobby, the vast array of rocks, each with distinct properties, can feel overwhelming. Each rock type can impact the health and behavior of your aquatic pets, posing questions like: Which rocks are safe? How do I prepare them? How should they be arranged for maximum visual appeal?
In this Beginner's Guide we'll address these questions and more.
Read More